Click on images for full-sized view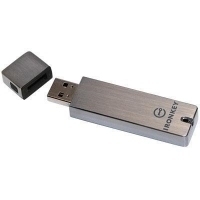 Only 2 Left In Stock! Buy Now!
Read product overview
View specifications
Send to a friend
http://www.techforless.com/cgi-bin/tech4less/D2-D200-S01-4FIPS?mv_pc=amzwishlist
IronKey D2-D200-S01-4FIPS
PRODUCT CONDITION & PRICING
New - Open Box

2 Left

• Original manufacturer condition
• Includes accessories
• Manufacturer warranty

New - Open Box products are in original manufacturer condition, include accessories, and carry the manufacturer warranty.
Manuals and software might not be included, but can usually be downloaded from the manufacturer.
These items can be in the original manufacturer box or repackaged for protection during shipping.
Buy this item and get 300 points
(worth $3.00)
Save
41%
Compare At $52.49
$30.97
IronKey
D2-D200-S01-4FIPS
1gb Enterprise D200 Usb 2.0 Flash Drive
---
View specifications
You May Also Like
Centon
Centon DataStick Pro DSP4GB10PK-BLU 4 GB Flash Drive - USB 2.0 - 10 Pack - Blue
Read More
$49.97
IronKey
Imation Ironkey Enterprise D2-D250-B04-4FIPS D250 Personal 4 GB USB Flash Drive - USB 2.0
Read More
$83.97
IronKey
IronKey Workspace WGHA0B064G0001 W300 64 GB USB 3.0 Flash Drive - External
Read More
$152.97
The Tech For Less Promise:
Join the over 1 million satisfied customers we've been serving since 2001. We inspect and test all of our products to ensure it meets the manufacturer quality standards. We have a 30 Day Return Policy and every product has the Manufacturer Warranty against defects. If there does happen to be an issue, we will work with you to make it right!
Read full terms of guarantee
Contact Us
1610 Garden of the Gods Rd.
Colorado Springs, CO 80907
Sales: 1.866.880.1230

Operating Hours
Monday — Friday
Outlet Store:
9:00am to 6:00pm MT
Phone Inquiries:
8:00am to 6:00pm MT
Testimonials
Great prices, both for product and shipping. Web design was thorough and easy to use. Products were as described and ...
Phil H. - Dec 11th 2013
Read more