Click on images for full-sized view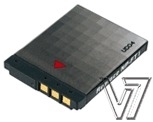 Only 1 Left In Stock! Buy Now!
Read product overview
View specifications
Send to a friend
http://www.techforless.com/cgi-bin/tech4less/V7-B-9636?mv_pc=amzwishlist
PRODUCT CONDITION & PRICING
Factory Sealed

1 Left

• Brand new
• Original manufacturer packaging
• Full manufacturer warranty

Factory Sealed products are new, in original manufacturer packaging, and carry a manufacturer warranty.
Save
21%
Compare At $12.66
$10.00
V7 V7-B-9636 Digital Camera Battery for Sony Cyber Shot DSC-L and DSC-M/T Series
V7 Digital Camera Battery for Sony Cyber Shot DSC-L and DSC-M/T Series.
---
View specifications
You May Also Like
SANYO
Sanyo 02491-0081-00 Rechargeable Lithium-ion Battery Pack for Xacti VPC-T1060 Camera - 3.7 V - 700 mAh - Black
Read More
$13.49
Panasonic
Panasonic CGA-S101A/1B 700 mAh Lithium-ion Battery for Lumix DMC-F7 - 3.60 V - Dark Gray
Read More
$15.49
Samsung
Samsung BP70A Battery for AQ100, DV90 Digital Camera - Lithium-ion - 740 mAh
Read More
$19.49
The Tech For Less Promise:
Join the over 1 million satisfied customers we've been serving since 2001. We inspect and test all of our products to ensure it meets the manufacturer quality standards. We have a 30 Day Return Policy and every product has the Manufacturer Warranty against defects. If there does happen to be an issue, we will work with you to make it right!
Read full terms of guarantee
Contact Us
1610 Garden of the Gods Rd.
Colorado Springs, CO 80907
Sales: 1.866.880.1230

Operating Hours
Monday — Friday
Outlet Store:
9:00am to 6:00pm MT
Phone Inquiries:
8:00am to 6:00pm MT
Testimonials
I have had very good service when I have ordered from you folks. I have spent what I consider a lot of money. This ...
Clarence K. - Dec 16th 2014